I live in the world I have imagined myself
By Tatiana Pastukhova
Winner of Junior Eurovision- 2005 Ksenia Sitnik leaves open the possibility that she may try in the future for the adult Eurovision
Next year, Sitnik will be 16, enabling her to apply for this contest.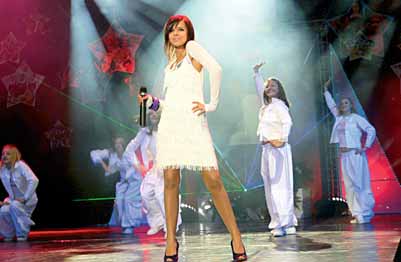 The young performer spoke to journalists at the presentation of her second solo album — The Republic of Ksenia — which coincided with her birthday.
"I don't think it's reasonable to go to the adult Eurovision so early, where everything greatly differs from the children's competition. Although I don't exclude this opportunity in future, studies are most important for me now," notes Ksenia. According to Svetlana Statsenko, her other and Artistic Leader, it's naive to believe that by winning the Junior Eurovision Ksenia will automatically become best at the adult event. "My attitude towards this contest is rather calm. As soon as I see that Ksenia is ready for it morally and vocally and that she is able to perform a suitable song, than she'll probably apply. Anyway, I don't aim to send her to Eurovision as soon as possible," she said.
The second album of the singer, prepared over four years, includes 11 compositions. "Each of them displays a small part of me and what I'm doing. My mood oft en changes, so the songs are very diff erent. However, my favorite piece is probably the Hero of the Novel, with Sergey Bily writing music and lyrics for it," admits Ms. Sitnik. A video clip is soon to be shot for this song. All tracks of the album were written specially for Ksenia. The Boys are Drawing War, dedicated to the events of the Great Patriotic War, is the only song she's re-recorded, with arrangement made by Victor Pshenichny.
The title of the album — The Republic of Ksenia — characterises our Belarusian starlet well. "Each of us is a personality, living in one's own world: either real or the one, created by o neself. I think I live in the world I have imagined myself. This is my world and my republic," explains Ksenia.
The young artist is likely to become a songwriter soon, since she writes good lyrics. Ksenia has also tried to write music, yet not very successfully. She is now working on a real detective novel, whose secrets aren't disclosed yet.
During the summer holidays, Ksenia does not have any rest. She is going to study at Oxford University to enhance the level of her English.
Speaking about her ideals in music, Ksenia noted that she enjoys J:Mors and Palats bands most out of Belarusian performers.
Po materialam saitov:
-- turist.by - the minsk times
-- slanet.by - Ob'yavleniya v Minske